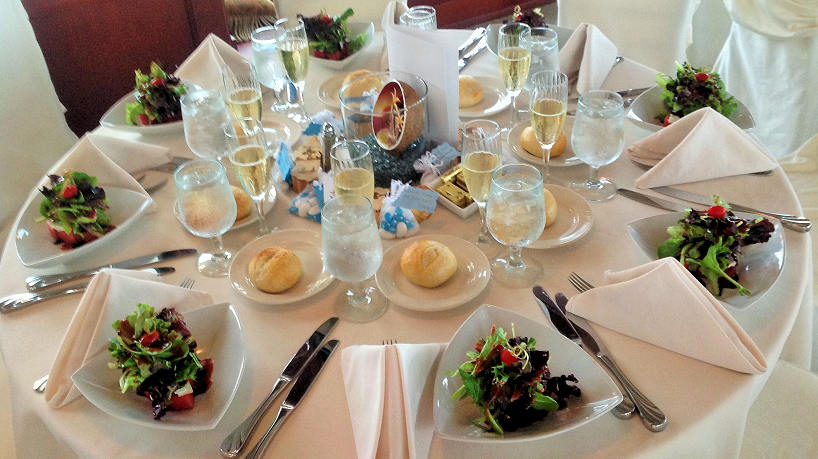 Sample Platinum Menu
This is a sample menu only.
All Items based on availability and may vary slightly among yachts.
Ala Carte selections available upon request.
Cocktail Hour On Boarding Antipasta Display
Assortment of Domestic & International Cheeses w/ Crisps, Fresh Crudites with Dips.
Kebobs of Seasonal Fruits with Peach & Raspberry Yogurt Sauce.
Assorted Meats, Roasted Peppers, Olives, Artichokes, & Camponanta.
Jumbo Cocktail Shrimp Display Cascading in Silver Bowls.

Hors D'oeuvres, Passed Butler Style
Wild Mushroom Duxelle w/ Wasabi Aioli
Petit Pan Seared Vegetable Dim Sum w/ Ginger Soy Sauce Confit of Long Island
Duck Tartlettes w/ Apple Cider Glaze
Norwegian Smoked Salmon on Toast Rounds w/ Onion & Caper Relish
Chicken Sate w/ Spicy Peanut Sauce
New Zealand Rack Of Lamb w/ Pear Mint Jelly
Miniature Maryland Crab Cakes w/ Jalapeno Remoulade
Sit Down or Buffet Dinner Service
Dinner Rolls & Butter
Fresh Seasonal Melon wrapped in Proscuitto
Salad of Baby Field Greens, Walnuts, & Crumbled Feta w/ Vinaigrette
Each guest presented with a choice of Entree
Boneless Breast of Chicken Chausser w/
Wild Mushrooms, Artichokes, Tomato & Red Wine
Fresh Baked Filet of Salmon w/ Dill Beur Blanc
Herb Crusted Roast Prime Rib of Beef w/ Rosemary Au Jus
Accompanied By
Select Julienned Vegetables and Roasted Potatoes w/ Rosemary
Dessert Presentation
Viennesse Display of Gourmet Cakes, Pies, Pastries, Cookies, &
Chocolate Dipped Strawberries
Coffee & Decaf, Cappucino, Espresso, & Select Teas