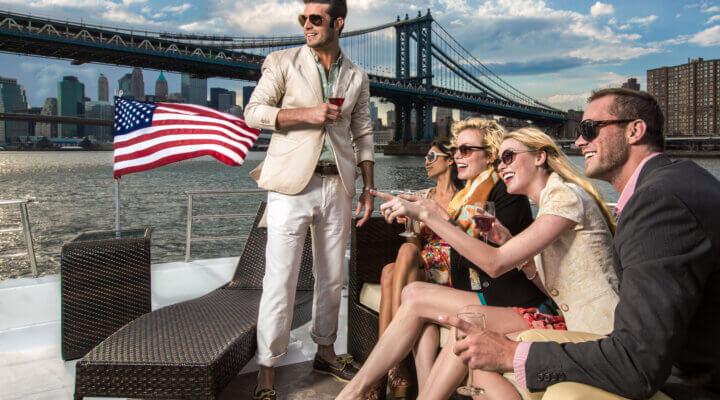 Summer yacht charters in New York City are heating up, following an epic July 4th holiday. Revelers took to the water to enjoy the city's fireworks display. As usual, the show did not disappoint and there was no vantage point better for taking in the color that burst through the sky than onboard a private yacht charter.
With the full heat of summer upon us now, private yacht charters of New York City, the Hudson River, and beyond are busier than ever. A full fleet of private boats at Prestige Yacht Charters means that there is still some summer availability for reserving your own yacht charter this summer. These spots are filling up fast. Make sure you get the boat of your choice by booking your luxury yacht as soon as possible.
Harbor and Corporate Cruises Available This Summer and Fall
Offering harbor cruises in New York and New Jersey, Prestige Yacht Charters' fleet of luxury yachts has been busy this summer and the upswing looks to continue heading into fall. This one-of-a-kind experience allows guests to enjoy good food, entertainment, and the sights of the nearby harbor all while imbibing in the many amenities that a luxury yacht has to offer.
A private boat of New York City and beyond is also a great way to treat employees this summer with a corporate cruise. This type of event is perfect for rewarding your employees for their hard work all year round, while enjoying the warm summer weather on the water. From evening cruises with a four-course formal meal to daytime voyages complete with buffets and appetizers, your employees will enjoy themselves when treated to their own corporate cruise aboard a private yacht.
Vacation Charters Now Available in the Caribbean or New England
New York City vacationers can now enjoy their own luxury yacht charter in New England or the Caribbean. Departing from New York City or New Jersey, these private charters can head north to the cooler New England climate. A perfect summertime adventure or wait until the fall to tour this picturesque area. If you are looking for a more tropical climate, depart on a private yacht charter in the Caribbean. There you can enjoy the sandy beaches, crystal clear water, and watch the tropical sea life that is native to the area.
Whether you are planning an event late summer or for the fall, Prestige Yacht Charters has the perfect luxury yacht charter for you. See our complete fleet at https://www.prestigeyachtcharters.com/ or call 212-717-0300.