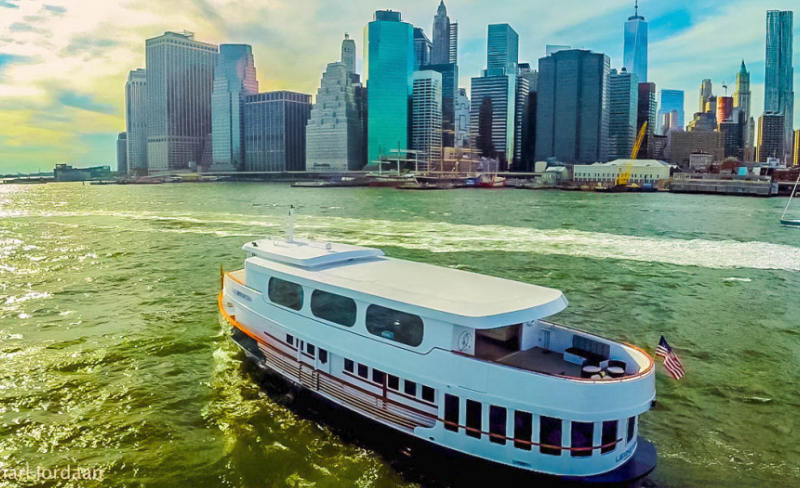 Corporate Meetings on a Yacht
Does it sound unusual to have a corporate meeting on a luxury yacht? It is. The concept provides your clients and prospects with a unique and imaginative alternative to dreary conference rooms and a catered lunch. Making that big presentation on a private yacht provides de facto evidence of your out-of-the-box thinking and puts your prospects at ease in an environment usually reserved for the rich and famous.
As an event planner, I have witnessed the persuasive effect of treating your guests to magnificent panoramic views combined with gourmet cuisine, lively entertainment and attentive professional service. I have also seen carefully planned business meetings flop when prospects become bored with PowerPoint slides and traditional luncheon fare.
Cruise Landmarks
Luxury surrounds you as you gently cruise New York Harbor in Lady Liberty's shadow. For evening gatherings, the lights of landmark bridges sparkle like diamonds against the backdrop of the New York skyline. Your prospects will always remember the experience, and your competitors will appear drab by comparison.
To further impress your associates, special trips are available to temporary art projects. This summer, cruises will offer an up-close view of the New York City Waterfalls, designed by Copenhagen-born artist, Olafur Eliasson. The falls will be lit after sunset to create an illuminated fountain effect. Another project this October, 100 glowing tents on the southern tip of Roosevelt Island, will commemorate 100 patients confined to a smallpox hospital at that location during the 19th century. The array of illuminated tents will be visible at night from the water as well as the East Side of Manhattan.
Planning Your Event
A variety of yachts may be selected to fit any size or type of event. Elegant outings may be planned with your associates' favorite cuisine served outdoors or sitting at tables. If you are celebrating a new partnership, you can arrange a champagne reception. Other options include cocktail hour with high-end passed hors d'oeuvres, a seafood bar, a gourmet pasta or imaginative salad station, or a carving board for roast beef, turkey, quail or exotic game.
For combined business and social gatherings, a band can play music of any genre with dancing under the stars to enthrall your spouses. Depending on your client's preferences, some charters even offer a professional casino
Choosing a Chartering Company
Established chartering companies offer a vast selection of vessels to accommodate any-sized business and its budget. Ships vary from formal, elegant yachts to casual party boats with sleek modern profiles or more classical lines. The best chartering companies will offer interior and exterior photos of their entire fleet on a comprehensive web site.
Depending on the company you select, different points of departure may be available.. Docking facilities are located in all boroughs of New York City, New Jersey, Connecticut, Westchester and Long Island.
When evaluating a yacht chartering company, make sure its ships are all weather-enclosed with sheltered decks, and climate-controlled with air conditioning and heating. The yachts should be large and stable, and cruise the calm, protected waters of New York Harbor and Long Island Sound to ensure your guests' ultimate comfort.
For the professionally-inclined, some chartering companies offer the latest A/V facilities. Prospects on a yacht are a captive audience for any presentation, and your competitors may struggle for months to achieve a similar opportunity.
Conclusion
Choosing where to host your meeting can make the difference between success and failure. Think back to business meetings you have attended and try to evaluate them.
Chances are most of them will be indistinguishable from one another. Only the faces changed. Contrast that with a business meeting aboard a yacht. The comparison speaks for itself.