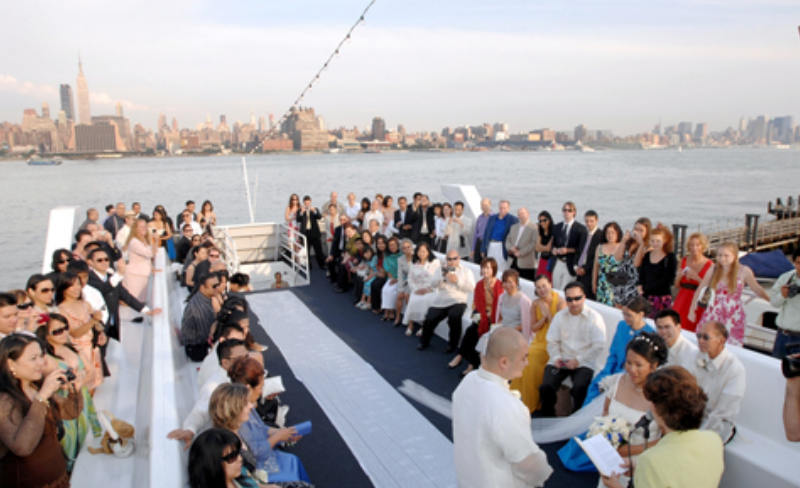 Yacht Weddings
What a Great Success, Bravo!
Weddings or receptions on a yacht offer an imaginative alternative to other sites such as restaurants, country clubs or homes. On a private yacht, your guests will enter a world usually reserved for the rich and famous. Luxury surrounds you and your partner as you embark on a romantic voyage of wedding bliss. Imagine dancing and dining as you gently cruise under Lady Liberty's shadow. On evening journeys, you will pass under landmark bridges whose lights sparkle like diamonds against the imposing backdrop of New York City's skyline. Your guests will marvel at the panoramic vistas and famous buildings and share stories about the memorable experience for years to come.
Yacht weddings planned by top chartering companies offer imaginative cuisine, first-class accommodations, great entertainment and attentive professional service. Couples may arrange nearly any type of event. For example, you may choose first-class cuisine and lots of outdoor activity, with very little sitting at a table. A simple ceremony outside and champagne reception may be followed by a cocktail hour with high-end passed hors d'oeuvres and a simple raw seafood bar. Then, try a gourmet pasta station, an imaginative salad station, and carving board with various accompaniments. For dessert, a fabulous wedding cake, passed petit fours, assorted chocolates, and fresh fruit will conclude the feast as your guests listen to a band and dance under the stars.
The five-star cuisine and impeccable service will only complement your wedding as your guests stare, enthralled, at the surrounding splendor. Imagine passing by the Statue of Liberty with the New York City skyline in the background while the band plays "New York, New York," and the summer wind gently blows.
For those with more traditional tastes, yachts can provide ballroom weddings with a unique twist. Larger yachts can seat all your guests for dinner on one deck with a dance floor included. The cocktail hour may be held on a separate level from the dining, and all the traditional rites -- such as introductions, first dance, parent dances, champagne toast, wedding cake ceremony, and the garter and bouquet toss -- occur with all the guests together in one room. A formal sit-down dinner service, with dancing between courses, sit-down coffee and dessert complete an elegant affair in a magnificent setting.
These two examples demonstrate the endless possibilities. You can hold just the reception on a yacht or do the ceremony on board as well. A vast array of vessels accommodate almost any taste and budget. Select formal, elegant yachts, casual party boats or anything in between. Some vessels evoke the image of a personal, private yacht while others are more suited for ballroom-style events. You may prefer a sleek modern vessel or a classic yacht; the choice is yours.
Docking facilities provide points of departure throughout the boroughs of New York City, New Jersey, Connecticut, Westchester and Long Island, and, for those preferring a more natural setting, vessels can travel up the Hudson Valley or explore Long Island Sound.
Couples often ask about the weather. You should be careful to choose a yacht with climate control (air conditioning and heating) and weather-enclosed decks. Top chartering companies offer only this type of vessel in their fleets and will cruise calm waters to protect your guests from rough or uncomfortable conditions.
What a great success, Bravo!
When couples select a yacht for their wedding, they may decorate it with nautical colors, favors and themes including fish, seashells, the Statue of Liberty and the Brooklyn Bridge. Music can also reflect the atmosphere with songs from the "Love Boat," "Gilligan's Island" or "In the Navy."
Of course, the photo opportunities are incredible. Sunset, the Statue of Liberty, bridges and the New York skyline may be complemented by photos of individual guests with the yacht's life ring. This makes a wonderful keepsake.
Deciding where to hold your wedding should be carefully considered. Think back to other weddings you have attended, and try to remember the locales. What was the most memorable site? If you attended a wedding aboard a yacht, it would be the first one to pop into your mind.
One bride who held her wedding aboard a yacht returned from her honeymoon and told me the phone calls and messages were still pouring in. The gist of the comments? "What a great success, Bravo!"