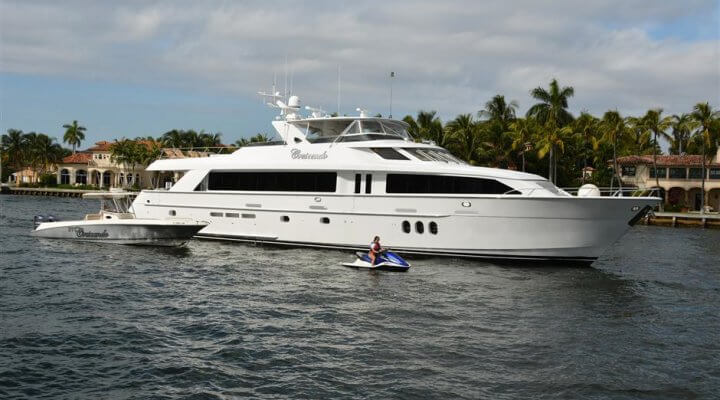 Thanks to its continuing success, Prestige Yacht Charters will be offering new marina embarkation locations including access to private yachts in South Florida this winter. The newly renovated and upgraded luxury yacht, "Avanti," will provide day charters for up to 12 guests or overnight accommodations for 8. We will also feature the classic yacht, "Mariner III," from Palm Beach and other select yachts for 2-800 guests in the Southeast Florida region.
Share our success in South Florida this winter.
Prestige already offers embarkation points throughout the New York Metro region for trips around New York City, along the Hudson River or on Long Island Sound. Marinas such as the North Cove Yacht Harbor, located near the World Financial Center, Delmar Greenwich Harbor in Connecticut or the Liberty Landing Marina in Jersey City are just a few of the many options available.
The new locations in South Florida, however, represent a sea change in the expansion of Prestige. We hope our current clientele who winter in South Florida will transfer their loyal patronage to the new location.
We will roll out our expansion in the coming weeks with more details including a new website, brochure and other marketing materials. Stay tuned to this blog and our Facebook Page to learn more about this exciting development.
Our new luxury yacht in Florida will provide an ornate experience designed for smaller groups. Whether it's for a birthday, club or a cozy wedding, few experiences rival the effect of a luxury yacht on a celebration, ensuring memories to last a lifetime. Your senses will be feted by the gentle lapping of water on the hull, your favorite cuisine and music of any genre.
If  you wish, you can plan your event in New York now using our many experts for services such as photography, floral design, entertainment and officiates. Our planners will ensure a tasteful mix suited to any occasion.
Prestige is currently flexible regarding cruise itineraries. If you have special trips in mind, please contact us, and we will do everything possible to accommodate you.
Share our success in South Florida this winter. We expect reservations to go fast and will honor reservations strictly on a first-come, first-serve basis. Our new yachts will become flagships of our entire fleet, and we can't wait to try them out!
Share This Post