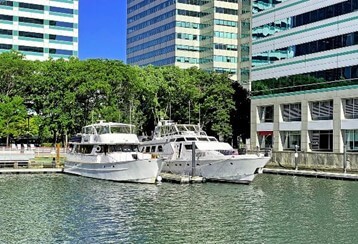 We are excited to offer Justine and Juliette from their new home in Newport, NJ – just across from midtown Manhattan. This new home for these two boats is in a beautiful, lively, and convenient location close to trains, hotels, the Holland Tunnel, and offers a secure parking garage.
Spectacular Charters From Newport, New Jersey
All cruises from Newport begin with a stunning view of the Freedom Tower and cover all the sights nearby in your choice of two-, three- or four-hour custom cruises. We are also offering reduced relocation fees at Chelsea Piers, North Cove, and One15 Brooklyn Marinas.
Alpine, New Jersey Charters are Still Available
We are continuing to offer Alpine, New Jersey yacht charters. This is a beautiful spot nestled in the Palisades, a perfect point for fall foliage cruises through the Hudson Valley, Bear Mountain, and West Point.
Chartering in Style Aboard Justine or Juliette
Both luxury yachts are fully heated and are perfect for intimate anniversaries, birthdays, corporate events, and photo shoots through New Year's Eve.
For more information, or to book Justine or Juliette, contact 212-717-0300 or visit https://www.prestigeyachtcharters.com/motor_yachts.asp
Share This Post