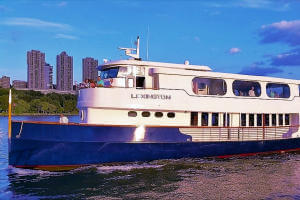 The heat of summer may be over, but the fall cruising season is in full swing. The outdoor temperatures are more comfortable in the fall, allowing you to enjoy time on the decks of a luxury yacht charter. The New York City skyline is a breathtaking view with clear fall skies, crisp temperatures and a moon that is sure to stun everyone onboard.
Cool Temperatures Allow Guests to Rest Comfortably on the Deck
Fall is a wonderful time for temperatures, with comfortable days and cooler nights. Your guests can lounge on the deck of their own luxury yacht charter, enjoying the comfortable temperatures.
Fall is the optimal weather to truly enjoy the many sights that the New York City skyline has to offer. Enjoy the wind in your hair during the day, while taking in the sights. Stretch out on relaxing lounge chairs with a warm blanket in the evening to see New York City as never before.
Plan a Sunset Cruise or a Night Charter
Fall sunsets are like no other, particularly with the city's breathtaking landscape in the background. You can take in the many colors of the skyline over New York City. Consider an evening and night charter to get the full effect of the season. With the Harvest Moon lighting up the sky during the autumn equinox, a luxury yacht charter this fall is an opportunity not to be missed.
Treat yourself and your guests aboard a luxury yacht charter this season, and revel in the stunning beauty that the New York City skyline has to offer during the fall months. Crisp temperatures, clear skies and the cityscape aboard a luxury yacht charter is the best way to experience the season.
To see the luxury yacht charters available this fall visit https://www.prestigeyachtcharters.com/motor_yachts.asp.
Share This Post