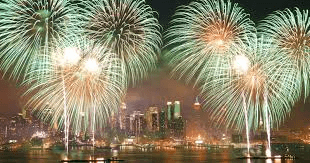 There are few areas that are more spectacular for viewing fireworks than on the water onboard a private yacht charter. Macy's July 4th fireworks display in New York City is one of the largest and most famous to celebrate America's independence. The crowds can present a challenge in finding a comfortable location to view the spectacular display.
Onboard a private charter on the Hudson River the view of the fireworks is like no other, while you also have the opportunity to admire the Manhattan skyline illuminated.
Enjoy the Fireworks in Comfort and Style
A private yacht charter can make the 4th of July a truly memorable event for everyone onboard. On the water your view of the fireworks is unobstructed as you take in the many sights that go along with this spectacular night. But more than that, you can relax in style and comfort onboard a private yacht charter.
From comfortable deck-side seating to catering and beverage service, you and your guests can experience a 4th of July that you will remember forever. The amenities for cruising the Hudson River on the 4th are endless. You and your guests can enjoy hors d'oeurves and appetizers while onboard or a four-course meal, while you take in all of the sights that the 4th of July over the city has to offer.
Other Landmarks to Enjoy Onboard
The sights onboard a private yacht charter extend beyond the fireworks. You will be able to take in the many landmarks that the city has to offer, all from your comfort onboard the charter. This includes the Empire State Building, Brooklyn Bridge, Freedom Tower and the Statue of Liberty.
For a truly unforgettable Independence Day experience, plan to view the 4th of July fireworks from onboard a private yacht charter.
For availability, contact Prestige Yacht Charters at 212-717-0300.
Share This Post