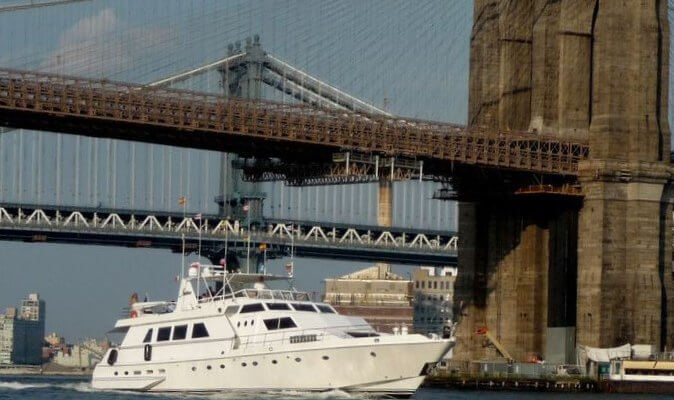 Plan your Nautical Proms, graduations and Celebrations now! Prestige Yacht Charters has the perfect NYC or NJ Boat charter to accommodate any size group.
Spring Break is upon us and the school year is coming to an end. Now is the time to get your choice dates and boats. We at Prestige yacht charters can coordinate your large or small Nautical Proms, Graduations, and celebrations,  attending to every detail.
Whether it is a private NY or NJ charter on the Hudson or a School sponsored prom gala, all our events in NY Harbor are capped off with a close-up view of the Statue of Liberty.
Imagine the unlimited photos ops in front of the Statue of Liberty, under the Brooklyn Bridge and other famous NYC sights
Manhattan is your backdrop as the panoramic views are endless along the east River and throughout NY Harbor.
Your guests will marvel at the infamous NYC skyline and the iconic buildings. The Empire State, Chrysler, and the New World Trade Center are among the spectacular NYC and NJ architectural wonders. And don't forget the expansive Bridges that light up the East River.
Our professional team will help you create memories of lifetime. We strive to assist and coordinate all the services for food/ beverages, entertainment, and special décor to make your NY or NJ boat charter a unique experience.
We look forward to hosting all the proud graduates as they embark on their journey. Each milestone is special; middle school commencements, high school proms, and college graduations, we cherish them all!
We hope to see you on one of our NYC or NJ boat charters. We welcome the opportunity to 'WOW" your guests aboard our boats and yachts. Prestige Yacht Charters of NYC and the metropolitan area has your vessel. Now is the time to plan your Graduation yacht charter and your Nautical Proms.
Feel free to contact us by phone, text, and email for fast quotes and detailed information.
The Prestige Yacht Charters Team is eager to host your Nautical Proms and Celebrations!
Share This Post